---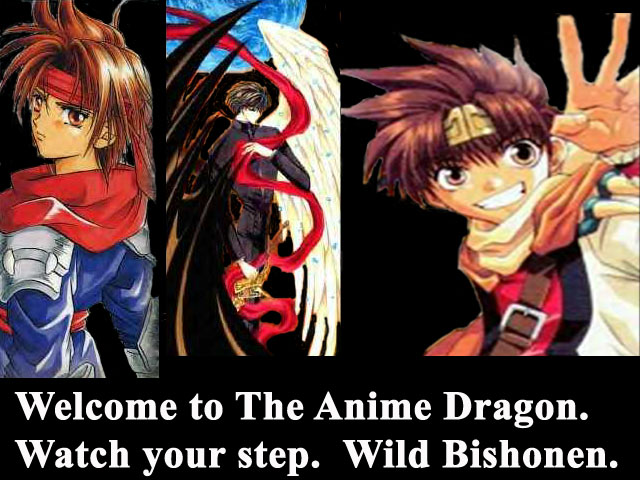 NEWS and UPDATES
Welcome to the Anime Dragon, a site devoted to anime and the Medieval arts of the past and present. This site has been created for the enjoyment of all and I hope that you may find what you are searching for or learn something new in the least. I welcome comments and questions so do not hesitate to email us at: BanditJingAndKir@aol.com
This is my first website and I shall try to get everything worked out and ready as quickly as I can. So I really do need some feedback to help us with any of my mistakes. I do accept fan fiction from others and I hope to create a large library. Submit any type of fan fiction though I would appreciate if you rated it yourself at first so that I will know which category to put it under. Anime and non-anime fan fiction are both encouraged here.
******Due to a problem with my laptop where this site was saved I had put it on ice but I shall try to make tiny updates using HTML until I can get it fixed which shall hopefully be soon. For everyone who has supported The Anime Dragon I thank you. Hopefully, we will be ready to do some heavy updating soon. So much to add and a lot of new anime have been discovered since the last update.*******
CONTINUING THE WORK--------COMING SOON: NEW FANART BY VIVIANE AND NEW ANIME CATEGORIES
LAST UPDATED: Febuary 21, 2006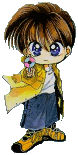 Time for a Disclaimer----
I do not own nor will ever own any of the anime titles or major corporation owned stuff displayed on this website. I am only here to promote knowledge and allow people easy access to the information of which they see and I am receiving no money off of this. The anime names are owned by their respective translating groups and Japanese creators. However someday I shall create my own anime but until then all of this has been borrowed from the original owners.
Since I have received some of the pictures here from a friend of mine if they belong to you please tell me so and I shall credit you however if it is a scanned picture or doujinshi picture, come on, I own my own books and such besides the actual picture belongs to the original artist. I am talking about if you drew the picture and I haven't realized this for which I apologize and will give you credit.
You are the
th person to visit this site!!
Owned and Operated by:
A WEBSITE DEVOTED TO ANIME RESEARCH